Provincial Point of View
November 15, 2016
The Santa Claus Day Parade is this Sunday in Saskatoon!
REMEMBRANCE DAY CEREMONY IN SASKATOON - THE LARGEST INDOOR CEREMONY IN CANADA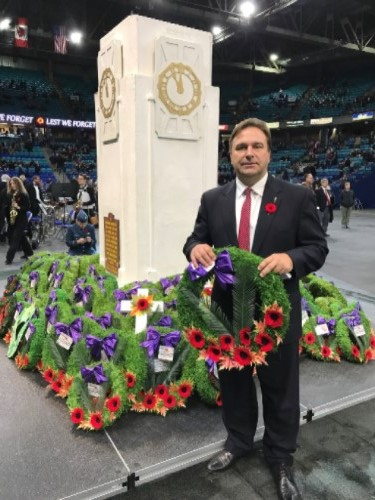 I was honoured to lay a wreath on behalf of Saskatoon Willowgrove at the Remembrance Day Service in Saskatoon. Thousands joined at SaskTel Centre to remember those who sacrificed their lives for the freedom we in enjoy in Canada. Remembrance Day provides us with an opportunity to express our sincere gratitude and respect to those that have served and continue to serve.
Premier Brad Wall, "Our remembrance will never be adequate for the price paid. But we offer it to honour those who sacrificed then and still today with sincere hearts. We will remember them."