Provincial Point of View
May 2, 2017
Remember the City Wide Food Drive Saturday!
BREAKING GROUND ON MERLIS BELSHER PLACE!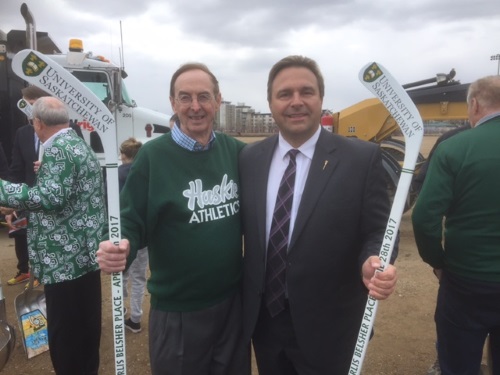 It was indeed an honour to attend and participate in the sod turning ceremony of Merlis Belsher Place. Merlis is a Saskatoon Willowgrove constituent and has contributed to our community, city and province in many incredible ways. I encourage you to click on the Saskatoon StarPhoenix link here to read the story about this selfless individual ..."From tragedy comes sense of community, giving back". Merlis is, and will always be an inspiration to many. I'm proud to call him not only my neighbour, but my friend.
Donors and officials used personalized shovels with hockey stick handles for the sod turning of Merlis Belsher Place on April 28, 2017.
Story and Photo Credit: 650 CKOM, by Chris Vandenbreekel // April 28, 2017:
The sod is turned and now the University of Saskatchewan is looking to turn a new leaf with a modern arena.
Over 100 people attended a ground-breaking ceremony for Merlis Belsher Place Friday afternoon, the first step in the construction of the facility.
It'll be located south of the Huskies field house, off of Field House Road.
The arena's namesake was on-hand with a hockey-stick-handled shovel after donating $12.25 million to the rink, the largest single donation ever received by the U of S.
"It's sort of like a dream," Merlis Belsher told reporters after the ceremony.
Tim Hodgson and Dave King, who co-chaired a Home Ice Campaign that raised over $28 million for the arena, were unable to attend. The arena plans to feature two ice pads - a main sheet for Huskie hockey with 3,437 seats and a second ice pad for minor hockey and other community uses.
It will also house a double gymnasium and dressing rooms for the university's soccer teams.
If the arena stays on schedule the university plans to open it in time for the 2018-19 hockey season, replacing the now 88-year-old Rutherford Rink.
"In 18 months and three days... grab a pair of skates, some Halloween candy, and join us for the first festivities," Belsher told the crowd who gathered for the ceremony.
The city is contributing a total of $4 million - $1 million through a grant program for the construction of a city-use sheet of ice, and $3 million to help speed construction.
The start of construction comes just four days after Saskatoon city councillor Darren Hill withdrew a motion to reconsider the additional $3 million.
"I know it was not a simple decision to make," U of S President Peter Stoicheff said to councillors in attendance. "I know that you made it and stayed with it, and I guarantee the citizens of Saskatoon will be proud of the results."
Read the entire article here.