Provincial Point of View
January 11, 2018
A DECADE OF SOLID JOB GROWTH AND STRONG GROWTH IN DECEMBER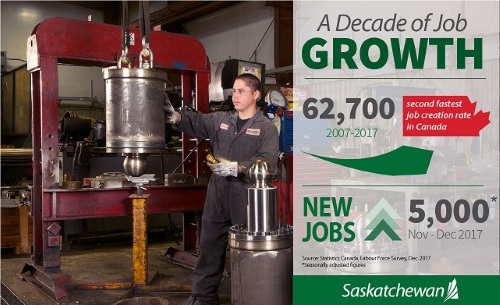 December's job numbers show Saskatchewan had the second highest percentage employment growth rate among the provinces between 2007 and 2017 and added 5,000 jobs in December, starting the year from a position of strength.
There have been 62,700 jobs created over the last decade in Saskatchewan, a 12.4 per cent increase, well above the national rate of 9.8 per cent.
Among the provinces, Saskatchewan had the fifth lowest annual average unemployment rate in 2017 at 6.3 per cent. Nationally, the annual average unemployment rate was 6.3 per cent.
To see additional 2017 highlights, click here.