Provincial Point of View
September 12, 2017
Check our Coming Events & let me know if you have an event to add
SYLVIA FEDORUK SCHOOL IN SASKATOON CELEBRATES THE COMPLETION OF HISTORIC PROJECT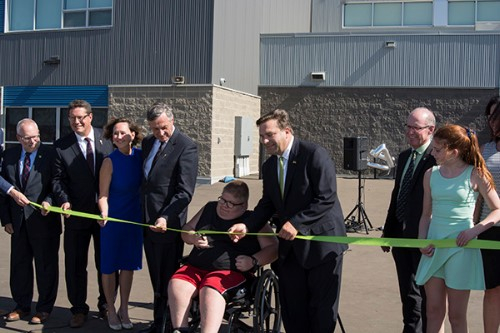 I was thrilled to be in attendance last week as students, staff and families celebrated their new state-of-the-art school in Evergrreen. Evergreen in our constituency of Saskatoon Willowgrove became the first community to celebrate the completion of the largest and most historic schools construction project in Saskatchewan's history. Read the news release below:
Students and staff celebrated the grand opening of Sylvia Fedoruk Public School in Saskatoon, one of 18 new elementary schools on nine joint-use sites that have opened on-time and on-budget in Saskatoon, Martensville, Warman and Regina.
Education Minister Bronwyn Eyre joined dignitaries, representatives from the Saskatoon Public School Division and family and friends of Sylvia Olga Fedoruk for the grand opening.
"This is a momentous occasion for the people of Evergreen, the City of Saskatoon and the entire province," Eyre said. "After many years of planning and construction, this community can now enjoy one of the most innovative schools in Saskatchewan with its inclusive design and incredible features that will enrich the lives of all of its students."
Those features include outdoor learning spaces, open common areas for student gathering, presentation stairs, and the functional life skills (FLS) room. The FLS room is offered to students with a moderate intellectual disability and allows them to become as independent as possible in their daily lives through movement and quality physical education.
The school design is the result of input from students, teachers and school divisions who took part in the design workshop three years ago. Sylvia Fedoruk School can accommodate more than 700 students from kindergarten to Grade 8 at full design capacity.
"Sylvia Fedoruk was a long-time friend of our school division," Saskatoon Public Schools Board Chair Ray Morrison said. "From my years representing this ward, I know this school named in her honour will be a welcome addition to the community. It's location in the thriving neighbourhood of Evergreen will ensure families have a school they can grow with for years to come."
Read the entire news release here.