Provincial Point of View
February 4, 2019
MUNICIPAL REVENUE SHARING TO INCREASE FOR 2019-20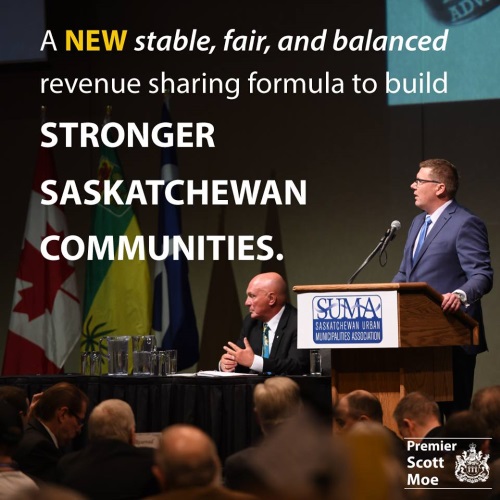 "Premier Scott Moe, Last year we committed to working with municipalities to develop a new, stable revenue sharing formula that works for everyone.
Today we got to that formula, and municipalities across Saskatchewan will get $10 million more to invest in their communities where they see the greatest need." Watch the video live from SUMA here
Today, Premier Scott Moe announced that Saskatchewan municipalities will see an overall funding increase of more than $10 million for 2019-20, bringing the total amount to $251 million next fiscal year for the municipal revenue sharing program. The announcement was made while Premier Moe addressed the Saskatchewan Urban Municipalities Association (SUMA) at their Annual General Meeting.
The additional $10 million in 2019-20 represents a four per cent increase from the current fiscal year, following a review of the program and consultation with municipal stakeholders that began in 2018 and resulted in a new predictable, sustainable and transparent formula.
"Municipalities across Saskatchewan will continue to have a consistent source of unconditional provincial revenue to invest in their local priorities," Moe said. "The adjusted revenue sharing formula recognizes our current fiscal reality, evolves this key provincial program, and retains the fundamental qualities of predictability, sustainability and transparency."
Read the entire news release here.