Provincial Point of View
October 15, 2019
YOU'RE INVITED

SASKATCHEWAN LEGISLATURE TO RECONVENE OCTOBER 23RD - PLEASE LET ME KNOW IF YOU WOULD LIKE TO ATTEND THE THRONE SPEECH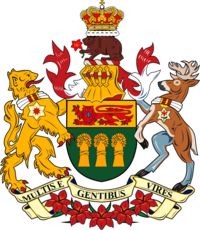 The Lieutenant Governor of Saskatchewan
His Honour the Honourable Russ Mirasty
will formally open the Fourth Session of the Twenty-Eighth Legislative Assembly of Saskatchewan in the Assembly Chamber at two o'clock p.m. on Wednesday, October 23, 2019 on which occasion you are invited to be present
If you are interested in attending this special event at the Legislature in Regina, please contact my office at ken.cheveldayoff.mla@sasktel.net or call 306.651.7100. Invitations are limited, so please contact me soon. Invitations will be distributed on a first-come, first-serve basis. I look forward to having you attend! You will receive confirmation of your request for attendance.
PREMIER MOE WRAPS UP A SUCCESSFUL TRADE MISSION TO JAPAN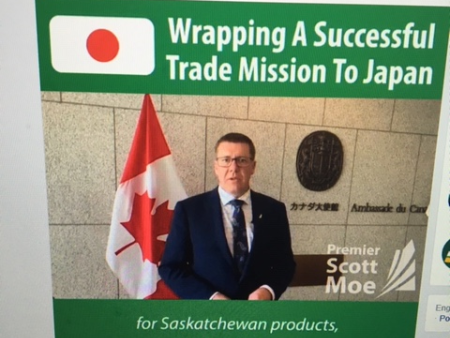 Click here to listen to Premier Moe's message about his Trade Mission to Japan.
Premier Moe was honoured to represent Saskatchewan along with an incredible delegation. Some highlights and interesting facts to share from Premier Moe's Trade Mission:
Saskatchewan supplies Japan with 77% of its durum wheat imports and 12% of its non-durum wheat imports.
Japan represents an incredibly important market for Saskatchewan exports, and we have a rich history of providing the food, fuel, and fertilizer that Japan has needed in the past and will continue to need into the future.
Canola Oil is a high quality, healthy and versatile cooking oil that accounts for almost half of all Saskatchewan's exports to South Korea. Premier Scott Moe was honoured to represent our canola and agri-food producers today in Seoul when meeting with Ottogi Co. about expanding their processing volumes, and how Saskatchewan producers are ready to meet increased demand.
South Korea represents a growing export market for Saskatchewan, with exports from our province growing by almost 40% over the last five years. Corporations like Daesang Corporation that import high-quality agri-food products from Saskatchewan are key players in increasing this trade into the future. Daesang is an important customer of Saskatchewan canola oil, and it was Premier Scott Moe's pleasure to meet to share the stability of our province as a source market of agri-food, and discuss how we can work together to grow Saskatchewan's canola and agri-food exports to South Korea!
The Saskatchewan Flax Commission and the Saskatchewan Trade and Export Partnership met in Seoul to speak with Korean media on the benefits that flax products can bring to Korean consumers. Expanding the knowledge of the health benefits of flax products is key to gaining new customers in new markets.
Institutions of higher learning are vital to innovation in Saskatchewan, and international connections expand opportunities and perspectives for our students. Premier Scott Moe joined with the University of Saskatchewan, the University of Regina and Saskatchewan Polytechnic to sign 7 MOUs to strengthen connections with Korean academic institutions.
Premier Scott Moe joined University of Saskatchewan President Peter Stoicheff with Saskatchewan's VIDO-InterVac to meet with the International Vaccine Institute. Both signed an MOU to strengthen the sharing of expertise through an exchange of researchers and students that will benefit human and animal health globally.
Homeplus is Korea's second-largest retailer, employing over 25,000 people with over 600 retail locations and millions of online customers. The Saskatchewan Trade and Export Partnership along with the Saskatchewan Flax Commission and Zak Organics met with Homeplus to discuss expanded opportunities to provide Saskatchewan agri-food to millions of Korean families. The Saskatchewan delegation also joined Homeplus in touring one of their Seoul retail facilities. It was great to see high-quality Saskatchewan food, including grains and canola oil on the shelves. On behalf of Saskatchewan producers, we're working to get more food on shelves of retail stores across Korea!