Provincial Point of View
February 17, 2020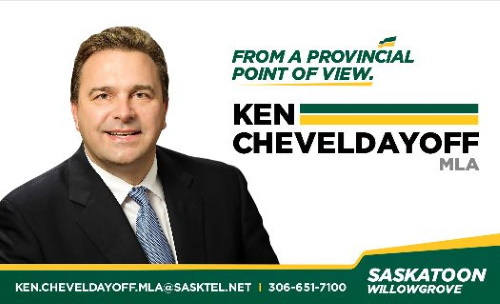 PLEASE JOIN ME TODAY AT THE WUHCA OUTDOOR RINK!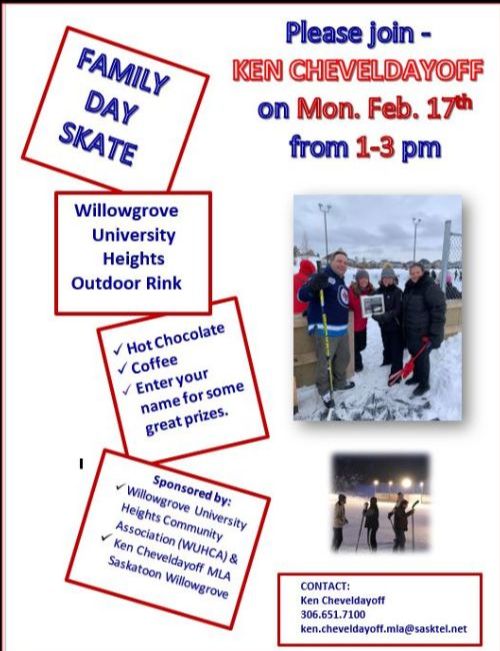 I look forward to seeing you this afternoon at the Willowgrove University Heights Community outdoor rink. It may be cold outside but there will be plenty of hot chocolate and coffee to keep you warm. Please join me and your neighbours any time from 1 pm - 3 pm.
REMEMBERING PETER ZAKRESKI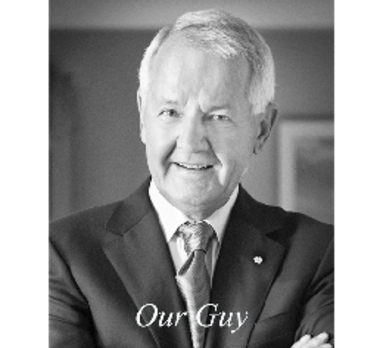 It is with profound sorrow that we say goodbye to a great friend, philanthropist and humanitarian, Peter Zakreski. Peter will be remembered for his prominent role in civic politics, his impact on the Saskatoon sports community and especially the philanthropy he and his wife Elaine displayed both locally and across the globe.
Taken from Peter Elmer Zakreski's obituary: Peter, a husband, father, uncle, cousin and friend, passed away February 5, 2020, at the Palliative Care Unit in St. Paul's Hospital. He died much as he lived - quietly, tenaciously, hardly complaining, bursting with love, gratitude and spreading laughter when he could. His was a beautiful death, surrounded by family, tranquility, and love. Peter started out in the same hospital eighty and a half years ago on June 28, 1939. He grew up on a farm near Alvena, but the self-described boy from Alvena spent most of his adult years in Saskatoon. In truth, the city never had a greater fan. He is an alumnus of St. Paul's High School Class of 1957 and earned his B.A. from the University of Saskatchewan in 1961. He joined Federated Cooperatives that year as a Personal Officer. By 1978 he had risen to the rank of Senior Vice President of Human Resources and Industrial Management, a post that he held until 2010. Of his forty-nine years with Federated Co-op he was proud to say that there wasn't a single day that he didn't wake up excited to go to work. Peter's rock was his faith. He carried the Prayer of St. Francis in his wallet and prayed it daily. It was his code for how to live - always putting others ahead of himself and being a channel of God's mercy and love to his family and to countless others lucky enough to have known him. He always listened before he spoke and always insisted on picking up the tab. He would have sought to console us in our present darkness with a hug, an assurance that he will always be with us, that we honor him by helping others and with a simple whispered message of hope from his favorite prayer, "it's in dying that we are born to eternal life."It was from this faith foundation that his astonishing record of public service sprang. First, with parish councils, spreading to community associations, City Council, alumni associations and then major community events like the Canada Games and the World Junior Hockey Tournament. He served on dozens of community boards, as a member, chair or president. A Rotarian and a Knight of Columbus. He was a phenomenal community volunteer with a reputation for getting things done. Even Saskatoon didn't contain him as he and Elaine founded Hope for Malawi Foundation, a charity that has built schools, a medical clinic, bridges, wells and two churches in Malawi. Nearing eighty, Peter still greatly enjoyed serving as a Citizenship Judge and swearing-in recent immigrants to Canada. For his philanthropy and community involvement, he received the Order of Canada in 2002. He also was named CFQC's Citizen of the Year, awarded B'Nai Brith's "We are Proud of You Award," received the U of S's Alumni Humanitarian Award, was inducted into the Saskatoon Sports Hall of Fame as a builder, received the Saskatchewan's 100th Anniversary Medal, St. Thomas Moore's Distinguished Graduate Award, Queen Elizabeth's Golden Jubilee Medal and recently the Saskatchewan Red Cross' Humanitarian Award for his and Elaine's charitable work in Malawi. There is even a park named after him in Stonebridge. Former mayor, Cliff Wright, probably said it best at the B'Nai Brith Dinner, "we told Peter our secrets, we told him our dreams, the secrets are still secrets, the dreams have all come true."Peter is survived by Elaine, his wife of 58 years. She was his inspiration, constant companion, foundation and fountain of youth. He is also survived by his children who were his pride and joy, Michael (Tammy Folsom), Terry (Cynthia Nave), Laurie (Stephan Glaude) and Lynn. He welcomed into his heart all the friends, spouses and stepchildren that his children brought into his life as his own. He loved and spoiled his grandchildren, Ellen and Erica (children of Michael and Lynn Coates), Alexandra (child of Terry and Cynthia Nave), and Peter and Kathleen O'Keeffe (children of Lynn and Eamon O'Keeffe). He was never too busy for his children, finding time to drive them to their many activities and events. They could not have asked for a better father and he was a father figure and friend to many, including our beloved Fr. Stefano Penna. He is also survived by his brothers, Morris (Natalie) and Wes (Sylvia) and his sisters, Vicky Gillies and Elizabeth Lesko (Bill) and numerous and dear nieces and nephews.
That distinctive twinkle that was in his eyes may have gone out but it now shines above us, inspiring us to do what we can to make our world a better place.
https://thestarphoenix.com/news/local-news/philanthropist-volunteer-peter-zakreski-exemplified-what-saskatoon-was-all-about