Provincial Point of View
July 6, 2020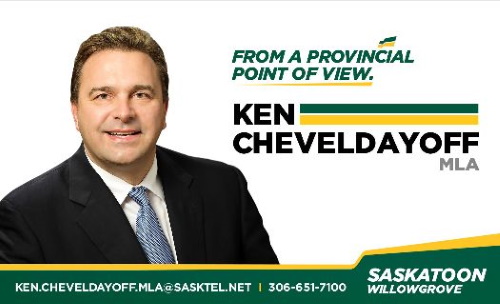 PREMIER MOE PAYS TRIBUTE TO RETIRING MLAs
As the spring session of the legislature concluded Friday, July 3, Premier Scott Moe acknowledged and thanked MLAs who will not be running in the next provincial election.
"Politics is a partisan calling, but on both sides of the assembly there are people of good will who are motivated by essentially the same thing," Moe said. "We all love this province. We all want to build a strong, resilient, inclusive Saskatchewan. On behalf of the entire province, I want to thank my departing colleagues for their sacrifice and commitment as we worked together to build a better Saskatchewan."
Eleven MLAs – seven from the governing Saskatchewan Party and four from the Opposition New Democratic Party – have announced they are stepping down.
Leaving on the government side are Dan D'Autremont (representing Cannington), Nancy Heppner (Martensville-Warman), Greg Brkich (Arm River), Glen Hart (Last Mountain-Touchwood), Herb Cox (The Battlefords), Larry Doke (Cutknife-Turtleford) and Warren Michelson (Moose Jaw North). Warren McCall (Regina Elphinstone-Centre), David Forbes (Saskatoon Centre), Danielle Chartier (Saskatoon Riversdale) and Cathy Sproule (Saskatoon Nutuna) are the New Democrats stepping down.
The legislative assembly convened for the final time today before the upcoming provincial election, scheduled for October 26.
Farewell speeches will highlight the day, along with tributes from Premier Moe and Opposition Leader Ryan Meili.
All of the retiring MLAs have served at least two terms in the legislature. D'autremont, the former Speaker, is the longest-serving MLA in the assembly. He was first elected in 1991.
"These folks are exemplary citizens who have never forgotten why they were elected," Moe said. "It was a great honour to serve with them. I know MLAs on both sides of the house join me in wishing our colleagues the very best as they begin the next chapter in their life."
SPRING LEGISLATIVE SESSION FOCUSED ON SUPPORTING GROWTH AND QUALITY OF LIFE IN SASKATCHEWAN
Premier Scott Moe said the government has delivered critical support to build the Saskatchewan economy and sustain high-quality services as the province continues to deal with the impact of the COVID-19 pandemic.
"During the spring session, we introduced a budget that will ensure our province continues on the path of growth while we manage an unprecedented health care challenge," Moe said. "The budget includes a two-year $7.5 billion capital plan that will create thousands of jobs while preparing Saskatchewan for the recovery to come. Saskatchewan is well positioned for an economic comeback. We have a strong financial foundation. We have determined and talented people. And we produce what a growing world requires – food, fuel and fertilizer. I believe Saskatchewan will get through the current challenges and emerge even stronger."
The Provincial Budget, released on June 15, includes a record $5.8 billion investment in health care, including more than $100 million in additional funding to help contain the spread of COVID-19.
Among other initiatives in the budget:
A record $435 million for mental health and addictions supports and services;
$20 million investment to reduce surgical wait times;
$80 million to build new long-term care facilities in Grenfell and La Ronge and to support renewal projects in 51 long-term care facilities across the province;
Record funding for Saskatchewan schools, including $2.6 billion to support Prekindergarten to Grade 12 classrooms, early learning and child care, libraries and literacy;
$278 million in no-strings-attached Municipal Revenue Sharing – an 11 per cent increase and the highest amount ever provided under the program;
$150 million for the Municipal Economic Enhancement Program for municipal infrastructure projects; and
$715 million to improve highway safety and efficiency, including more than 20 new passing lanes to be constructed in 2020.
During the session, Premier Moe said the government will continue to support the goals outlined in the province's new Growth Plan, released last fall.
The government will proceed with the establishment of three new trade and investment offices in Japan, India and Singapore.
"The COVID-19 pandemic has not changed the basic fundamentals of the Saskatchewan economy," Moe said. "Once the crisis passes, the world will continue to grow, and demand for Saskatchewan products will be strong. We need to be in a position to capitalize on that demand. The new trade offices will help us diversify our markets and help Saskatchewan exporters make connections with international buyers, which will mean more jobs here at home."
During the session, the government also announced the creation of a Nuclear Secretariat to coordinate nuclear policy and programs and plan for the deployment of clean energy small modular reactors in Saskatchewan.
The government introduced amendments to legislation to better protect the rights of legal firearm and handgun owners in the province.
And during the session, the Interpersonal Violence Disclosure Protocol (Clare's Law) Act came into force in Saskatchewan. "Clare's Law" authorizes a police protocol to disclose risk information related to someone's violent or abusive past to intimate partners whose safety may be threatened.
Saskatchewan is the first jurisdiction in Canada to enact Clare's Law legislation and is encouraging other provinces to follow in its footsteps.
CHECK OUT MY FACEBOOK PAGE
https://www.facebook.com/watch/?v=276729783652502
I had the opportunity to wish retiring colleagues well on the last day of the legislative session. I invite you to check the video out on my facebook page.